I am a single, retired female baby-boomer. With loads of teaching experience, a heart as big as Texas and wisdom out the wazoo. This explains why my grown daughter, mother of four of my grandchildren, offered to pay me to leave her fair city. After much thought, I considered life in Mexico. Maybe a scouting trip would be in order..
Having grown up on the Texas-Mexican border, I felt a kinship with the Mexican people.. But, I am scared senseless to live there. You know, the safety issue. The drug cartels. News photos of bodies hanging in the mercado. Hearing of human bones in the trash heap. It gets to you.
An acquaintance of mine from a twelve-step meeting, I'll call him Paul, mentioned he had just returned from several months in the delightful, quaint San Miguel de Allende, an artists' colony with a large percentage of English speakers from the U.S., Canada, and the U.K.
I tackled him after the meeting, got contact info, sent multiple e-mail inquiries and heard nothing back. Deterred, I gave up. Four weeks later, Christmas night, I heard from him.
Eventually, he answered most of my questions via e-mail..
Some unhealthy part of me went online to find THE cheapest roundtrip airfare. Paul mentioned that a $600 fare was noteworthy. I found a $369 fare with Cheap-O booking agency, really, the business name! By divine stroke of privilege and Booking.com, I found a room for nine nights for only $245. More will be revealed.
I scoured Amazon for books on living in foreign countries and found one on women in midlife who re-invent themselves south of the border. I had found my tribe. I am one of them.
The February morn of my flight was icy, especially in Dallas, from whence the flight originated. I later found a Time magazine article that mentions that Dallas/Ft. Worth airport cancels more flights than any other, save O'Hare in Chicago. Not good.
Cancellations and delays are a fact of travel life. And my flight was cancelled. I went into a disturbing panic. Stuck on the phone with customer service reps who repeated my given name in every sentence to prove their sincerity. I've had it to here with sincerity, just get me on a plane that flies south to BJX- the airport in Leon. NOWWWW…
Blessed are the flexible. If you can't hang loose, hang it up, so they say. I was scheduled to arrive in Mexico at 1:40 pm Sunday, Feb. 2.
I arrived at 1:40 am Monday, Feb. 3. The shuttle driver had herded his six weary customers into a van that had no shock absorbers. A tear of joy appeared as I stared out the window into the darkness while we drove the fifty miles to San Miguel de Allende. There's 107 speed bumps between the airport and the inn but I had finally returned to Mexico, the country of so much of my inner healing.
A teeth-shattering shuttle ride over the cobble stones/cement streets of San Miguel de Allende woke me up, had I ever been asleep. The shuttle van driver honked his horn to awaken the Inn's night monitor who walked me to my room. The man walked with a limp and held his right arm to his waist, as though he had cerebral palsy. But nonetheless, he walked me to my room. In the middle of the night. Part of the charm of San Miguel de Allende is the reality check it provides us Americans as to our being blessed.
The reason for the room's cheap rate soon manifested—no heat, no TV, no easily-flushed toilets (reach around to lift the float, please.) I slept with my sweater over my nightgown. I had left my cell phone's charger back home, so no chitchat with anyone, north or south of the border. It was a perfect scenario for listening to myself—-an activity I avoid like poison ivy.
But there was plenty of hot water for showers. And hey, it's cheap! What did you come here for? A spa for wimps? There's more money to spend on meals and trinkets.
The dawn broke the next morning. The natural light from the glass tile in the roof and ceiling gently awakened me. To a new way of living.
The Mercado de Artesanios was twenty-seven steps from my front door. I bought Talavera ceramics in every gaudy joi de vivre color available—-my first act of sheer abandon. However, hauling that many mugs, planters, spoon rests, house numerals, and trays around the airport was not wise. Not wise. And the postage to mail them home would have been even less wise.
With a $3 (tip included) taxi fare to any place in the city, transportation without a car is no problem.. Or I could walk. Which I did. Easily five miles a day. My legs hurt so badly, I took to soaking them in hot water in a plastic trash can nightly. It worked. When/if during long walks, my leg muscles expanded, contracted, and gave out. I'd pause for a coke and go on..
The first time I saw the parrochia across from the square in the center of town, El Jardin, I sucked in a breath of amazement. The people mill about, sit, ponder, watch others, read newspapers, buy a souvenir. Socialize. With this visual feast in the foreground.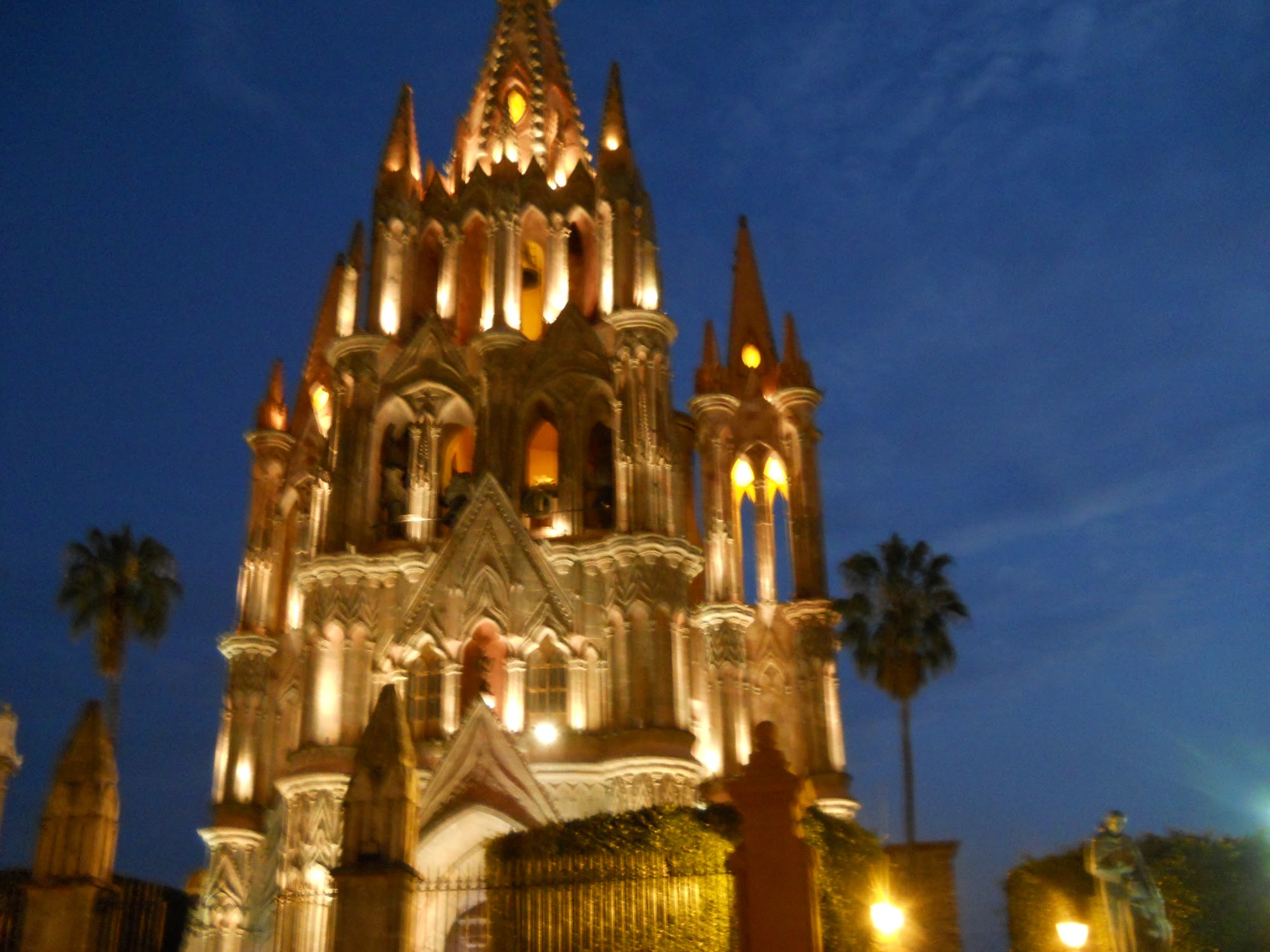 The Mexican people? How kind! Many times, when I asked directions, they would walk with me to show me my destination.
I could never be sure what or whom I might encounter in the center of town, the Jardin. Giant people with skeleton faces walked the streets, turned to have a photo taken when I called.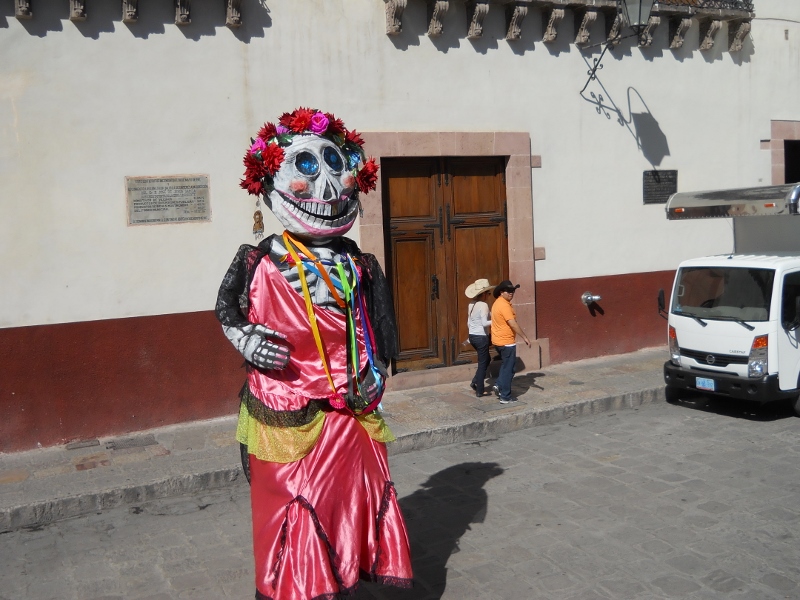 Each morning at breakfast at the Quinto Loreto Inn, the janitor/groundskeeper would build a real fire in the cafe's fireplace. With pinon pine. The warmth? The aroma? And fresh-squeezed orange juice! I've never had fresh-squeezed orange juice.
The fire's warmth drew other English-speaking travelers to the cafe for breakfast.. We would chitchat about what we had experienced and recommended to other ex-pats. A Chicago couple suggested finding the Biblioteca Publica on Insurgentes, a short walk from the Quinto Loreto.
It's run by English-speaking volunteers. My brain relaxes at the thought of foregoing the tortuous effort to communicate via the straight jacket of the language barrier.
The Spanish the Mexicans speak sounds like the textbook Spanish I learned years ago in high school, Castillian Spanish. I get the gist of what they're saying, using pantomime and repeated 're-takes.' "Repita, por favor…."
One night I splurged on a soup of mushrooms and nopales—cactus leaves. And for dessert, some heavenly flan. All this for less than $20 at this very ritzy hotel whose name escapes me. There were hole-in-the-wall restaurants all over San Miguel de Allende with backdrops such as this. It's an artist's paradise.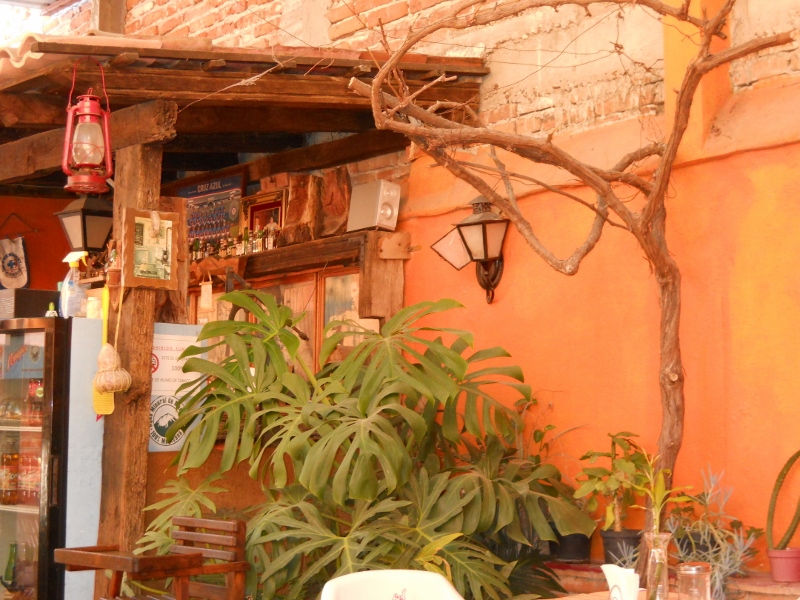 Susan Burns is a retired Texas school teacher, mom, grandmother and lover of travel. She says "Travel broadens our minds, widens our horizons, and helps us think twice before wiping each other off the planet." She gets more fun from her own writing than anyone else. But most important, Susan remembers the day Pres. Kennedy was shot and the night the Beatles arrived from Great Britain. You can contact her at  thursday49 [at] gmail [dot] com