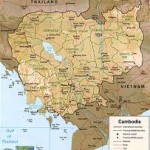 Cambodia is a country in Southeast Asia. It borders Thailand to the north and west, Laos to the northeast, and Vietnam to the east and southeast. The majority of the population is Buddhist.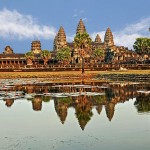 Cambodia is relatively unknown to many tourists, however, the beautiful landscapes, healthy cuisine and relatively low population (under 15 million) make it a peaceful tourist getaway. The The Angkor Wat historical park in Siem Reap province is a major attraction vistied every year by thousands.
Cambodian food is called Khmer cuisine. The diet is great for non-meat eaters. The cuisine is rice and/or noodles and a wide variety of vegetables and fruits. Spices and curries are used liberally to give the food rich flavor. If you choose to eat animal product, fish is the main protein. Dried salted fish known as trei ngeat are a favorite with plain rice porridge.