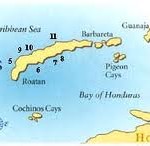 On mainland Honduras you will find ancient ruins, such as Copas Ruinas (a must see!), but also major cities like Tegucigalpa where quiet streets and quaint cafes line the city in many areas.  Just be careful in some areas.  We were harassed quite a bit around Copas from people trying to sell us drugs.
But traveling to the northern coast you will also find the ferry that takes you to the Bay Islands: Roatan, Utila, Guanaja. La Ceiba is the port city where you will find the ferry to take you to the islands. You can also choose a private airplane to go to the islands.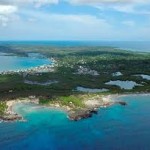 Many scuba divers flock to these islands because of the very economical prices and great weather. Roatan is the largest of the Bay Islands, and also the most developed. It has a population of around 17,000, most tourists. Roatan will boast many dive shops, hotels, eateries and cafes but you may spend a few dollars more than going to its sister island, Utilia.
Utila has the same feel as Roatan, but half the price. An apartment or room can be rented for 200+ USD per month. For a little more you can have AC, cable and warm water. However, warm water probably won't be needed since the weather is pretty much sun and heat. You can count on this starting in about March.  Depending on which part of the island you are on, you will have different results as far as apartment searches.  I was spending $350 and had no hot water, no AC and it was pretty rustic conditions.  I was farther from the dive shops on Lozano Road.  If you stay on the main street you will find more luxurious accomodation 🙂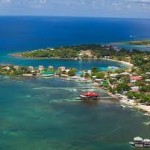 Utila has one paved road. Most of the traffic is pedestrian or bicycle. There is also an airport on the island. Utila has many caves to explore, including one that will take you into an underground lake. Taking a trip by kayak to the other side is also very pleasant. It will bring you to your very own private beach!
Utila has about 6000 people on the island, but most of them divers that come for scuba courses. In fact only about 2000 are locals. You will find people here from all over the world. This is usually the stop for most of the divers coming from Asia or on their way to dive the Blue Hole in Belize.
Guanaja, the third most remote island, can be reached via private ferry. Here you will find luxury hotels and private residences. This is really a getaway for the exclusive groups.