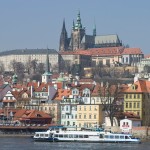 It is always a great experience travelling!  Especially when you don't speak the language and have no idea how to get around a city 🙂
Anyways, lost baggage is an experience, although not a necessarily pleasant one.  It happened as such.
Upon arrival in Prague I grabbed a cab, showed him my reservation information for the hostel and we arrived as to what I thought was my hostel.  It was a boat hotel.  I thought, wow, this place looks pretty neat and it's in the city center!  I know my hostel was near the water so figured this must be the place.  The cab driver had not said anything and even if he had, I didn't speak any of the same languages he spoke so it wouldn't have mattered much.  I paid the cab driver and got out.  I went up to reception, explained who I was and that I had a reservation.  The regular person that took the reservations was on lunch, so she couldn't pull up any information.  In any case, I asked if I could leave my luggage there.  "Sure, no problem".  And off I went.  (Now remember, this was not my hostel, so I unfortunately had NOT taken note of the name).

I spent the day exploring Prague, visiting all kinds of places and at the end grabbed a cab to go back to my hostel.  "Wow, I thought, this cab ride is really taking a long time".  After about 20-25 minutes and what seemed quite a ways out of the city center I started worrying.  We pulled up to a hotel/hostel on the edge of the river.  "This is not the right place, I said".  "Oh yes, yes, look at your reservation!  The name on the reservation is the same name here!!"
Anyways, we were at my real hostel.  I walked in, checked in and yes, in fact they had all my information.  Then I began explaining to them the situation I was in.  They were nice enough to give me a hand.  We started with the yellow pages and after about 2 hours of calling all the boat hotels in Prague that were on the river, discovered that there was, in fact, my luggage at one of them!  A volunteer at the hostel was nice enough to take me to get it!  Whew!!