Off road enthusiasts: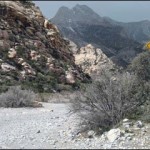 We wanted to post about some off road trails around Vegas and this is the popular trail. Popular not because it's easy, but because it's got some tough spots. Just make sure you have a decent vehicle, a good 4WD and high clearance is recommended and maybe head up there with a crew 🙂 I somehow managed to get a Jeep Liberty up to the top, coming from the Red Rock Side. Then it started snowing and I started sliding pretty bad. I had to be rescued by a Rubicon that was trailing behind me.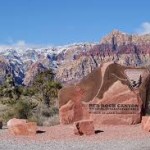 Rocky Gap actually starts in Red Rock Valley outside of Las Vegas. Head out on Charleston Ave west towards the Spring Mountains. That will take you right to Blue Diamond Road/159 road to Red Rock Conservation area. It's $5 dollars to get in and take the 13 mile scenic loop. You want to take the loop until the 6th parking area, or past White Rock Mountain Road. The loop is one way so if you miss it you will have to do the loop again.
Once you get there you will recognize it pretty easily. The road goes for a ways then the asphalt ends and becomes gravel then smaller rocks. The first tough part is getting across the wash, you will be able to identify it rather easily. Once you cross that, it's semi-easy for a ways but there will be some tricky areas.
There are also a couple turnaround points on the way if you decide you need to turn around and go back or simply need to rest. The first one is about 1.3 miles up. The road is narrow in quite a few spots and you will notice a change from gravel to sandstone and red rocks (hence the name Red Rock Canyon).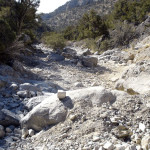 Once you get to the top, you will have great views of the Valley. The tough part is coming down the other side heading towards Lovell Canyon Road. The road is not maintained. It does getting pretty rocky in some spots, but if you continue on the road, you will get to Lovell Canyon Road, where it's pretty much gravel and smooth sailing.
This land is all Bureau of Land Management (BLM) territory, meaning is free range. You can decide to pull off and camp a few days, have a picnic, whatever. Just make sure you treat nature with respect and clean up after yourself.
Rocky Gap road is also the road taken to the trailhead for Bridge Mountain trail. It can also be hiked, the trail is about 6 miles in total until you get to Lovell Canyon Road. During the winter there will be snow, so prepare for that.
If you want the adventure but don't want to drive yourself, try some of the tour companies around Vegas. Happy Trails!