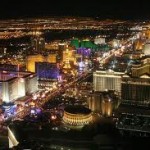 Las Vegas. The name alone has an allure of mystery, excitment and arousal. It means "the meadows" in spanish, since the area around it has many green meadows and natural springs. What is there to do in Vegas?? Most people go and have no idea how much activity there is in this fast moving, always changing city. The Strip is home to numerous hotels, including the Venetian, Ballys, , Mirage, Tropicana, MGM, Paris, The Riveria, Palm Casino and Resort and more. Each hotel is complete with restaurants, shopping, gambling, shows, activities, pools, more shopping, more gambling, more more more!! In fact, one day on the strip will leave your head spinning! You should have a direction and plan on where to go when you get there. The strip from MGM to the Strasosphere is 4 miles long.
THEN there is downtown Vegas, or old Vegas. Add another 3 miles. Here you will find the Golden Nugget, complete with a shark exhibition and a waterslide that goes right through it! Downtown is also home to several wedding chapels. You could get married by Elvis himself!! But wait……what about out of the city limits? What if you need some R&R from all that gambling?? Or maybe you already spent your money and need some cheaper activities??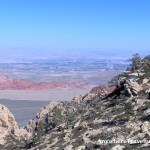 Outside Las Vegas lies Red Rock Canyon, one of the top 5 destinations for rock climbing in the USA. Its sandstone boulders make rock climbing a (little) more easy than it could be. It is also a great place to go hiking. There are day hikes last 15 minutes to all day, depending on what you like. The turtle rock hike is a nice difficult hike to take, but worth it when you see the Las Vegas skyline. Bridge mountain will give you a nice view as well, but this one is tough. Leave a good 8 hours for hike time. If you like off roading, there is also some nice rocky driving off of the 13 mile loop road. Bring extra tires.
Mount Charleston is a great day getaway. Tourists can refresh themselves here during the summer. When the temperature in the Valley reaches 110 degrees, Mt. Charleston stays a nice 80. With an elevation of 12,000, its much better up here. There is hiking, camping and for the winter guests, a ski resort.
You can also spend a day shopping or browsing Boulder City, if you need to get away from the hustle and bustle of the city. Take Hwy 93 out of the city towards Arizona. Boulder City is the gateway to the Hoover Dam. Boulder City has no casinos, in fact, the last can be found right after passing Lake Mead, another attraction.