So I am off on my next grand adventure. My adventures have been tapering off lately so maybe this won't be all that grand. After one has visited every mission in California, done Route 66 from one end to the other, visited the 2nd Biggest Ball of Twine in the US and even visited Big Butter Jesus before it got struck by lightning, one runs out of great adventure ideas.
But my next mission is to visit all of the historic hotels in California. There are quite a few, some of which are reportedly haunted. And they are all within easy riding range for my scooter. And I have become quite boring with my softball schedule keeping me close to home. But that is tapering off to two or three days a week. And the Little League World Series is over. And SEC football has not started. So I have a window of opportunity in which to get this started.
The first on my list is Pismo Beach. Not because it is haunted or historic but just because I like Pismo Beach. I saddled up my three legged pony and I was off like a bill in congress. I headed south on Hwy 33 and then west on Hwy 156. When I got to Hollister I picked up highway 25 which has to be one of the most forgotten roads in California. It is 75 miles of curves and undulating hills that is just made for a motorbike. When I got to the end I picked up the even more deserted Peach Tree Road which is another 40 miles of curves and not much of anything else. In this entire 115 mile stretch I might have seen 12-15 other vehicles.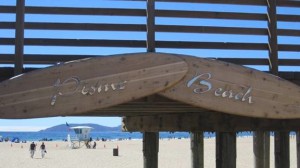 I turned towards San Miguel and then back south towards Pismo Beach. Pismo Beach was having one of those Chamber of Commerce days with the temps in the mid 70's, not a cloud in the sky and the big beaches there filled with people enjoying the last days of summer. It is located halfway between San Francisco and Los Angeles. One of the best kept secrets of the California coast is that it doesn't get good until the Fall season and then it is just spectacular. The winds lay down, it actually gets quiet warm, and the beaches get deserted because most of the touristos are gone. Today was one of those days with temps in the high 70's, a cloudless sky and the beaches looking magnificent.
I checked into the Pismo Beach Hotel which is the original hotel from back in the days when Pismo beach was not much more than a wharf. Well I guess the Chumash Indians were here before there was a wharf but they used to call it Pismu Beach which means Tar. Some thing are best lost in translation.
The hotel was built originally in 1937 and in 1939 the film "Strange Cargo" was shot there. Once the film was released The Pismo Beach Hotel became the hideaway hotel for stars such as Fred Astaire, Judy Garland and Mickey Rooney. I do think they stayed in separate rooms.
It is four stories high and a block from the wharf on the main street. Being four stories high, it has an elevator but it is one of those with a manual screen door on it. The hotel has a nice court yard that looks like it was part of the motor entrance back in the day when there were motor courts. The court yard is glassed on the street side so one can sit and people watch. The other side is open air and leads back to the parking lot. There is some fairly intricate brick work in the court yard.
The lobby is large with more Spanish style brickwork in it. There are several places ot sit and a non operational bar that serves as a continental breakfast counter in the mornings. The rooms are small but modernized with each having its own bathroom. The windows are small as fit the period when the hotel was built. The rooms on the western side can have views of the beach. There are outside areas on the upper floors where there are views of the beach. No air conditioning in the rooms as it rarely gets warm in Pismo Beach. A ceiling fan was enough to keep me more than comfortable There is an old fashion space heater in each room that is controlled by a modern thermostat for those winter days. I had stayed here previously in the winter and don't remember it ever being very cold.
Pismo Beach has a state recreation area just to the south of it that is the last place in California where you are allowed to drive on the beach. There are large dunes there and the attraction is using off road vehicles to attack those dunes. Self contained campers and motor homes line the beach and then launch their toys from there to go play in the dunes.
I spent the afternoon and early evening walking around the town stopping off for a beer at Harry's Bar which is right next door to the hotel . There always seems to be a band playing at Harry's and this afternoon was no exception. I wandered down to the Sea Venture I listened to a combo and had a bite to eat. I then wandered the town seeing if it was worthy of a winter getaway. It is. I had a nice piece of fish at a nearby restaurant and called it a night.
Monday
August 26, 2013
The days on the coast do not dawn. They just creep in under a cloud of light fog. This fog makes for some cool mornings that make it easy to stay in bed. Sometime around noon the fog burns off and the sunshine pours in. This is typical for most of the California coast.
I got up rather late for me and did my computer work and had some coffee and breakfast in the lobby. Then it was back on my burro and on the coast on Hwy 1. This is a road that I have traveled for one end to the other and I have traveled parts of it over and over again. It never gets tiring. The beauty is spectacular. The curvy road hugging the coastal cliffs is just made for convertibles and motorcycles.
This morning was particularly nice because the marine layer was broken up with bright blue sky. It usually takes until noon for the marine layer to retreat out to sea but this day was turning out better than expected. The ride just got better and better as I traveled north. Somewhere around Monterey I had to turn eastward. As I did, the temperatures started to climb from the low sixties to the high eighties. I arrived home at 3 PM and as always it was good to get home. But the trip to the coast, any part of it, is always a special treat for me.
— Guest Blogger Bob Naquin can be reached at naquinbob@gmail.com