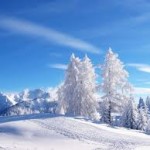 In the grey months of January and February most people long for some sun. But where should you go for some winter sunshine? Here are five of the top winter holiday locations for those looking for that elusive sun.
For lovers or a city break there can be no better place than Dubai. Teeming with life it is a shopper`s paradise. In fact shopping is a must on any trip to Dubai – there are over 40 shopping malls here and electronic goods are a speciality. Thanks to the building boom or recent years there is a vast array of hotels to choose from including some of the most luxurious in the world. The temperature is very pleasant
in the mid-high 20`s and significant rainfall is rare. There are also excellent restaurants. At five hours flying time from the UK it is also one of the closest winter sun destinations.
Another excellent choice for a city winter sun break is Miami. The beach is not really worth a visit but if you are interested in happening bars and excellent restaurants then Miami is the place to visit. It also has a wide choice of accommodation ranging from art deco hotels to modern chains. It can also form a good starting point for a wider Florida trip.
For those more interested in the ancient world than the modern Egypt is the obvious choice. A visit in the winter months means that the temperatures are more bearable for visiting world renowned sites such as the Pyramids or a trip down the Nile. For a more relaxing break you can also visit the Red Sea resorts such as Sharm El Sheikh and enjoy snorkelling and sunbathing.
A trip to the Southern Hemisphere is appealing in the European winter as it is their summer. Australia and New Zealand are too far to contemplate for a short break but South Africa is an attractive winter sun option. Although it is ten hours flying time it is almost on the same time zone as Europe so jet lag is minimal. It is the
ideal destination for lovers of the outdoors. Attractions include magnificent beaches with lots of opportunities for water sports, big game reserves and fantastic scenery including Table mountain. It also has great food and wine, with the chance to visit many vineyards directly. The cities are vibrant and cosmopolitan,
particularly Cape Town and there a wide variety of restaurants and hotels to suit all budgets.
However it is the Caribbean that is most closely associated with winter sun. With wonderful beaches and clear warm waters it is no wonder. There a wide variety of Caribbean islands to choose from. However one of the best ways to see as much as possible of this beautiful and relaxed part of the world as possible is to take a cruise. So if you are looking for some winter sun this winter why not look at
Caribbean cruises 2012? There are a number of brochures and operators around. So all you have to do is book to be able to bask in the warm Caribbean sun instead of shivering under a grey February sky in the UK.