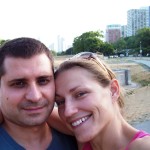 We are an Italian/American couple currently living between Italy and the United States. We love new cultures, new experiences and hearing about other people's adventures! Our travels have taken us, mostly together, but sometimes independently to just about every US state, Canada, Central and South America, Northern Africa and Europe. We try to document as much of our travels as possible and share them with our readers.
We both have backgrounds in music and languages. Our passions lie in travel, business, eating delicious vegan food, staying fit, holistic living, learning foreign languages and music.
Do you have an adventure you would like to share with us? We would love to hear about it!!