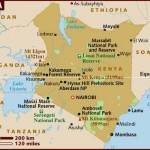 Kenya, officially the Republic of Kenya, is a country in East Africa. With the Indian Ocean to its southeast and the equator, it is bordered by Somalia to the northeast, Ethiopia to the north, South Sudan to the northwest, Uganda to the west and Tanzania to the south. Lake Victoria
is situated to the southwest, and is shared with Uganda and Tanzania.
Kenya's capital, Nairobi is an important commercial hub. The economy of Kenya is the largest in East and Central Africa and Kenyan tea and coffee
are the most exported goods. It recently became an exporter of fresh flowers to Europe. It is also a world-renowned athletics school.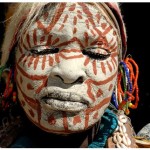 The word Kenya originates from the Kikuyu, Embu and Kamba names for Mount Kenya, "Kirinyaga", "Kirinyaa" and "Kiinyaa". The English meaning is "place with ostriches". When viewed from a distance the snow-capped peak of the mountain is like the white feathers of a male ostrich. Mount Kilimanjaro (5,895 m/19,341 ft) can be seen from Kenya to the South of the Tanzanian border.
Kenya's climate varies from tropical along the coast to temperate inland to arid in the north and northeast parts of the country. The hottest period is February and March, leading into the season of the long rains, and the coldest is in July and August.
Tourism is now Kenya's largest foreign exchange earning sector. Kenya is a country of great ethnic diversity. Most Kenyans are bilingual in English and Swahili. A large percentage speak the mother tongue of their ethnic tribe.
Kenyan foods have been greatly influenced by the Indians, Arabs, Europeans, and Pakistanis as well as some western countries.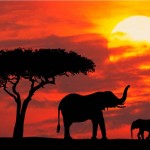 Safari in Kenya is very famous and every year thousands of tourists enjoy watching wildlife.