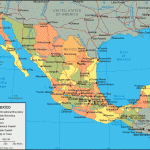 Buenas Dias and welcome to Mexico!!!
Mexico has always been a tourist destination and is full of lush landscapes and friendly people. To the north is the United States and to the south/southeast is Guatemale and Belize. Its climate is warm and dry in the northern Chihuahuan Desert and more humid and tropical in the south. It shares cool ocean breezes on the western coast, bordered by the Pacific ocean and on the east coast, is bordered by the Gulf of Mexico.
Spanish is the principal language, although many dialects are spoken throughout the country. The population of the country is 112,336,538.
Getting to Mexico is easy. Most flights arrive in Mexico City, the largest city in Mexico with a population of 21.2 million people. There are several flights daily from the US and Canada. Major airlines include Aeromexico, Mexicana, American (Canadian), United, Continental and Delta. Other popular flight destinations include Monterrey, Guadalajara, Cancun, Puerto Vallarta, and Acapulco.
Coastal cities are always a popular destination, with beaches, sun and entertainment. Cancun and Acapulco rank among the top 10. For a more historical vacation, trying visiting cities such as Mexico city, a world heritage UNESCO site. If you prefer a smaller city try Guanajuato, popular for its museums, culture and Cervantes Festival. If you are visiting southern California, you are not too far from the border town, Tijuana, where nightlife abounds and merchandise can be purchased by haggling prices. Farther south, you will find Cabo San Lucas, the tip of Baja California, where fresh ocean breezes and the sounds of mexican music abounds.
Inland you will find many ruins and ancient temples hidden among the dense, tropical forests. Perhaps the most famous are the Mayan temples, built by the ancient civilization of the Mayans. These tourist areas are always busy, so its best to visit the temples and pyramids early.