Romania has always been known for Dracula, Transylvania and gypsies, however the country has much more to share than Hollywood movies depict.
It is true than myth and legend remain in this sometimes overlooked gem of a country. This mysterious country sometimes keeps travelers out, however, the brave enter, nonetheless, only to be suprised at what is around the corner. Travel has picked up in recent years, however, with the admittance of Romania in the EU. Other countries such as Greece, Italy, Spain and Croatia now fight for travelers.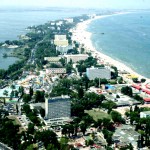 Romania is surrounded by land on all sides except for the Black Sea, which is where many romanians enjoy their holidays. The Black Sea riviera is home to many expensive hotels and resorts. The Danube river also boasts many hotels and dining establishments and is the second largest river that flows through the Europe, starting in Germany, before emptying out into the Black Sea.
Romania also boasts many national parks and mountain ranges including Retezat National Park, Rodna National Park, Călimani Mountains, Bucegi Mountains, Piatra Craiului Mountains and Bicaz Canyon. Tourists come to these places in the summer to enjoy the fresh mountain air and cool lakes.
The largest city is Bucharest with about 2 million people. Other medieval cities are Brasnov, Sighisoara, Cluj Napoca, Constanta on the coast and Timisoara.