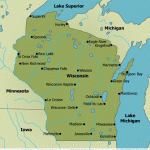 Wisconsin is a a part of the midwest and is located in the north-central United States. It is bordered by Minnesota to the west, Iowa to the southwest, Illinois to the south, Michigan to the northeast. Two great lakes that border it are Lake Michigan to the east and Lake Superior to the north. Wisconsin's capital is Madison, and its largest city is Milwaukee. As of 2010 the state has 5,686,986 residents. The state contains 72 counties.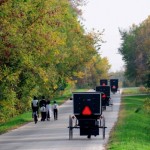 Wisconsin has a rich history of peoples, including many indian tribes such as Ojibwa, Sauk, Fox, Kickapoo, and Potawatomi. The six largest ancestry groups in Wisconsin are: German (42.6%), Irish (10.9%), Polish (9.3%), Norwegian (8.5%), English (6.5%), and Italian (6.1%). In central Wisconsin, it is not uncommon to find Amish folk, still speaking a dialect of german/dutch called Pennsylvania Dutch. You will often find them in traditional clothing and riding in horse drawn carriages. They are approachable and will wave to you when driving by in their carriages. They specialize in hand-made wood furniture and other crafts and you can find these Amish stores in various areas where the Amish population is high, such as Clark county and Green Lake county.
Wisconsin holds claim to many state parks and offers many different activities to choose from. The Eastern part of the state has miles of Lake Michigan coastline. Staying along the coast offers cool breezes in the summer and warmer lake air during the winter. Most state parks offer camping and hiking. Swimming is available at those near Lake Michigan or other lakes in Wisconsin. There are more than 15,000 lakes throughout the state.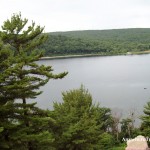 The Wisconsin Dells/Baraboo area is a top tourist attraction in the summer. This area is of particular interest and rich in geological history. This region was initially carved out by a glacier and its evidence can be seen in the lakes and various rock formations. This area is heavily wooded and offers great summer camping, fishing, swimming, hiking, rock climbing, scuba diving and bicycling. It is home to many different bird species and other wildlife. If you like water parks, this area is home to several and WI Dells boasts to be the biggest water park in all of the USA.
Winter also has something to offer. Winter ski resorts exist in WI and although may not be the Rocky Mountains, Wisconsin skiiers find enjoyment in these day trip getaways. Both downhill and cross country skiing is popular. Snowmobiling, ice fishing and ice boat racing are also popular. In fact, WI is full of fun things to do year round! Don't let the weather scare you!
Family? Wisconsin is a safe state and a good place to raise a family. Madison, WI was voted in the top 100 cities in America, by CNN money, to live in 2009 and 2010. Madison is the state capitol and home to UW-Madison. Milwaukee is the largest city, with over 1 million throughout the metropolitan area. Milwaukee's east side Brady Street holds claim to many cafes and unique shops, while downtown Water street is the Friday night getaway.
Looking for a traditional Wisconsin Sunday? Besides football, there are other activities to be enjoyed…..