If you're looking for a vegetarian/vegan restaurant in Edinburgh, look no further…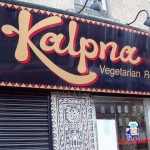 Kalpna advertises as vegetarian, but is very vegan friendly!! We found this restaurant wondering through the streets of Edinburgh and decided to have a go at it. In fact in a 5-6 days vacation, we ate the lunch 3 times. Our hotel room had a beautiful perfume of curry and spices!!
At Kalpna, we were not disappointed!!! They offer custom made dishes but have the buffet as well.
They are a vegetarian restaurant, BUT are very VEGAN friendly. You can check their menu too. Any dishes they have that are made with cheese can also be made without. You can also book groups.
The flavors of this Indian restaurant are excellent. It was clean and surprisingly economical. We paid 8.00 Sterling for the afternoon buffet, all you can eat, and we really ATE!!!
Anything they make can be made vegan (check out the coconut milk rice, very yummy). They also have plenty of salads, different breads and different varieties of rice and vegetables. In our buffet we had saffron flavored cold rice that was made with coconut milk, raisins and slivered almonds. There was also 2 different types of salads and paratha, which is just a simple bread made with wheat flour, water, salt and canola oil. They had paratha stuffed with peas, cauliflower and potato too.
You just have to make sure you check the hours, because we wanted to eat there one day, but they were closed. Hours for lunch are Mon-Sat 12pm-2pm, dinner is Mon-Sat 5:30pm-10:30pm and Sunday evening only.