When the winter nights close in and it's already dark when it's still the darn afternoon, it's natural to let your mind wander to a vision of you and your loved ones sunning yourself on a beach somewhere. Even when the weather is warm, we still want to get away – away from work, away from the rat race, away from neighbours, and to go somewhere to make the most of the minimal leisure time we get in life. Spain is a premium destination for leisure, and visitors can look forward to eating tapas, drinking exquisite wine or simply relaxing on the beach and contemplating the meaning of life (and/or working on your tan). Many visitors opt for Marbella when it comes to their Spanish getaway, and with good reason. This slice of heaven on Spain's southern coast offers relaxation, sophistication and old world charm. It's hard to strike a balance when you go to somewhere like this – do you simply do nothing and wander aimlessly, or do you walk the streets with a guidebook, making sure you don't miss anything of interest? Not to worry – it's easy to strike that balance, once you know about the best ways to spend your leisure time in Marbella.
Shop 'Til You Drop (and then Continue Shopping with Air Conditioning)
It's a great idea to take a walk along Av. Ricardo Soriano, as this is the main street of Marbella, is home to numerous fantastic shops, and is handy for orientating yourself. If the heat of the day gets too much, you can perhaps check out the La Cañada Shopping Centre, which has all the shops one can expect in a shopping centre type situation, and has the blissful benefit of air conditioning. Once the heat of the day has faded away, you should definitely check out the Marbella old town, where shops often stay open late, due to the fact that many of them close for a couple of hours after lunch for a traditional siesta.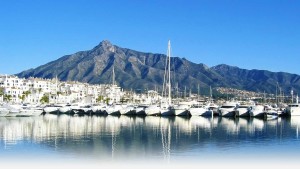 Hit the Water
Of course, if you find yourself in this glorious location, you'll want to experience the ocean, whether it's with a dip in the often balmy Mediterranean or a boat ride, and Marbella has you covered. At Puerto Deportivo and on the surrounding streets, you'll find a vast number of tour operators that will be happy to take you out on the water, and if you're licensed, you can even charter a boat yourself. In this part of Marbella you will also see a fair few boat dealerships, who will sell you anything from a used houseboat to a luxury yacht. Unsurprisingly, there are a lot of swimming beaches around the port, and the most popular are between central Marbella and the luxurious enclave of Puerto Banús – the locals call this stretch of sand "the golden mile."
Unwind, Relax, Treat Yourself
Since Marbella is a premier destination for relaxation, it's not a shock that the town offers world-class spa and wellness facilities, including those at the Villa Padierna Hotel, which was visited by US First Lady Michelle Obama while on a state visit to Spain – which is not a bad life; her husband meets government officials while she gets massages and facial treatments. Given the well-heeled nature of many Marbella visitors and local, a number of treatments have an anti-aging angle, for those who want to (and can afford to) look their best. Many spa facilities here offer a cryotherapy facial, which might possibly result in the most rejuvenated skin possible outside of a surgeon's office.
It's the old cliché, and yet here it rings true – Marbella has something for everyone, although you need to make sure that you keep some energy to hit the bars and nightclubs when the sun goes down.
Author Bio
The article was written by Gaby Carreira, who spends her time writing about her travels and has recently started a personal blog addressed to those who want to enjoy the Marbella Nightlife, her home city in Spain.