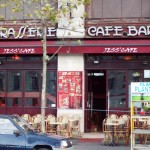 When we hear of Paris we think romantic vacations, Paris by night, fresh croissants in the morning and the sweet sound of "Merci beaucoup and Bon jour" in the busy streets.
But what about driving to Paris from Milan and the experience of a broken down car? All experiences, good and bad, are proudly presented by AnywhereTraveler.
Leaving Milan is always a challenge. Busy streets, a lot of traffic, people hollering, but its OK. We are on vacation and everyone is HAPPY!!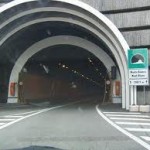 We make our way to the French Border. Before entering France from Italy you will need to take the tunnel through the mountains. In Italian its Monte Bianco, in French Mont Blanc. Either way, beware. We got a speeding ticket leaving the tunnel. The french have SEVERAL cameras in the tunnel and they take photos and radar of your car. When you leave the tunnel, you get a happy little note from the French Gendarmerie, WITH a picture of your speeding car. You must pay the fine immediately. Ours was 60Euro. I suppose depending who you are, your ticket may be more or less.
We came to close to Geneva, Switzerland. We stayed a couple nights in Annemasse, which is almost a suburb of Geneva. Annemasse is a bit cheaper than Geneva and if you have a car, its easier to maneuver around and find parking. The hotel in Annemasse allowed dogs AND had parking, so it worked out. DO stay if you get a chance. It is quite a quaint city near the France/Switzerland border.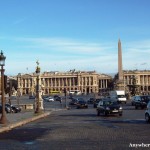 We proceeded again on our way to Paris. The Milan-Paris only takes about 10 hours, UNLESS this happens. We were just about there, on the french freeway, 30 km outside Paris, when the rattling and the buzzing in the car started. The car lost all power. There we were, one pug dog and a couple standing on the side of the Paris freeway at around 9pm at night. We called the car insurance in Italy, we were not covered for towing. We called the Paris emergency number, we could not understand french. Fortunately, we had a friend in Paris and were able to get a phone number to a tow service from them. We called the tow service…440Euro it set us back. They arrived after about an hour and brought the car to a suburb of Paris. We had little idea of what they were telling us. My husband speaks some french, but not enough to know if they were overcharging us or not.
The car was not driveable. Our only choice to get to our hotel in the center of Paris, still about 30km from where we were, was a taxi. The taxi arrived, it was about 10pm at night. The 2 of us, one pug dog in a crate and 2 suitcases, plus other stuff we had in the car. The car had to be left at a strange french towing company and were went away in the taxi.
Apparently, the cab driver did not recognize our hotel name, street or address. We started a joyride of the city of Paris for the next hour. We arrived in some very scary parts of the city where he attempted to drop us at our hotel and we said "NO this is NOT the hotel"!! After some broken french, italian, english, some map pointing and hand gestures, he found the correct hotel. 125Euros. We exclaimed "NO WAY" and said we were not paying. We bartered and arrived at a price of 100Euro. Still 100Euro to drive 30K seemed VERY exaggerated.
Over the next 3-4 days in Paris, instead of "oh la la beautiful Paris vacation" we were calling mechanics, towing companies, insurance company in Italy and every other place we could think of. We didn't even know where the car had been left. We had the receipt from the towing company with a name and number. We called. We weren't sure what was happening at that point but they seemed to tell us there was something with the fuel pump. In Italian its "la pompa della benzina" and in French it was "la pompe de l'essence". In any case, "pump" was the word we were understanding. We had our friend call and do some translating for us and understood that they would be taking the car to a different mechanic that would fix "la pompe".
Excellent. However, they wanted to fix it on "French" time. They said it could be a couple weeks, maybe. But we couldn't stay in Paris a couple weeks waiting for a car to get fixed!! More negotiations. More translations, finally after 4 days it was done. We had our friend drive us to the mechanic, since we still had no idea where the tow company had actually taken it. We arrive to find out in addition to a 440Euro tow charge, the bill was another 450Euro. For a fuel pump??
Luckily they accepted Mastercard. AND luckily we knew someone in Paris to help us out. There we were, our Paris vacation, one couple, one pug dog and 2 suitcases, plus a bunch of stuff in the broken, newly fixed car, with an extra royal Paris style bill of 990Euro.
Bon Voyage!!