Getting around East Europe can really be a great adventure!! And it makes for great stories afterwards! My experience landed me in a train in Romania that had literally no toilet (because there was a huge whole in the floor where the toilet should have been), windows that wouldn't open or close and missing train doors!  This is actually helpful in the middle of Romania in August when it's HOT outside!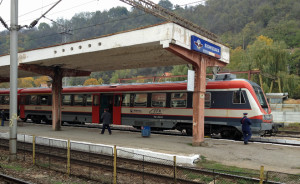 Some places you need to be a bit careful about.  I had been robbed (not by gunpoint or anything) but neglected to check my belongings before falling asleep on the train (my bad) near Sighisoara, Romania.  I was by myself in the cabin and had my backpack next to me.  I fell asleep coming down from Budapest. I had left around mid afternoon so was pretty tired.  Next thing I knew I woke up and found someone across from me speaking something and then he immediately left the cabin.  I quickly tried to regain my wits about me only to realize that items were missing (my camera and some small change, about 20Euros) from the top zipper of my backpack.
Luckily all my most important valuables, like passport, credit cards and bigger bills, were kept on me under my clothes.
The most unfortunate of this experience was that my camera with all my pics had been stolen.  I had to go on the rest of my trip with disposables (even a wonder they still make them)!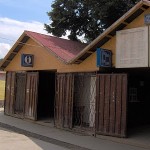 I arrived in Sighisoara at around 2AM in the morning.  My youth hostel was apparently no where to be found.  I had made the booking online and printed out the map, but seemed I could not find it.  I was not feeling very safe, either, so I saw an open restaurant across from the train station. I walked in to ask where the youth hostel was but was having no luck.  No one spoke English.  I tried Italian.  Nothing.  But did have some luck with German from an older gentleman sitting in the corner of a pub-like restaurant.  From what I was understanding is that it would be very dangerous for me to go lurking around Sighisoara by myself at 2AM.  And it would be absolutely NOT recommended to sleep in the train station if I wanted to have my belongings and still be conscious in the morning.  So I asked if they had rooms available upstairs from the restaurant…..Nope…..however, the owner of the restaurant did have a chair available and I was able to sleep in the chair in the hallway for one evening, at no charge!  The next day I was around Sighisoara exploring the medieval city and came back that same night to stay in the same restaurant….they did have rooms then!
In all, a great experience, little scary at times, but Romania is a great country to visit. Just be on your guard and if you can travel with a friend, it may be a better idea 🙂